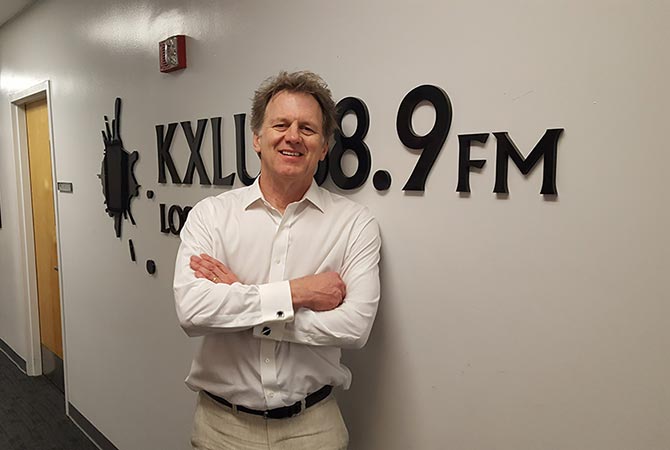 Filmmaker Ted Braun comes Center Stage with Mark Gordon to talk about his powerful documentary BETTING ON ZERO.  The film follows controversial hedge fund titan Bill Ackman as he puts $1 billion on the line in his crusade to expose Herbalife as a massive pyramid scheme. The withering crossfire between Ackman and Herbalife plays out across the media, in board rooms, and on the streets in Braun's stirring picture of the American Dream gone wrong.
Tuesdays at 7PM (PST) on KXLU Los Angeles, 88.9 FM and streaming at kxlu.com
Herbalife claims Ackman is a market manipulator smearing the company to drive the stock price down so he can make a fortune, but Ackman insists Herbalife deliberately targets low-income or immigrant communities and robs them of their life savings. Herbalife is aided on the counterattack by longtime Ackman nemesis and fellow Wall Street billionaire Carl Icahn, while Ackman finds an unlikely ally in Chicago activist Julie Contreras, who rallies the Latino community to get the federal government to intervene. Merging tales of high-stakes corporate intrigue with working-class people caught in the crossfire, Braun paints a stirring picture of the American Dream gone wrong.
BETTING ON ZERO premiered at TriBeCa Film Festival in April 2016, where it earned a special jury mention for investigative filmmaking.
Writer-director Ted Braun's critically acclaimed first feature film, DARFUR NOW, was nominated for best documentary of 2007 by the National Board of Review and The Broadcast Critics Association, and went on to win the NAACP Image Award for best documentary of the year. Warner Brothers distributed DARFUR NOW worldwide and financed along with Participant Media, which spearheaded a global social action campaign. For his work writing and directing the film, the International Documentary Association awarded Braun their 2007 Emerging Filmmaker of the Year. In addition, the Winter 2008 issue of Movie Maker Magazine named him, along with Errol Morris, Oliver Stone, and Robert Redford one of 25 filmmakers whose work has changed the world. Prior to DARFUR NOW he wrote and directed award winning short form fictional films and documentaries for HBO, PBS, A&E and The Discovery Channel; he continues to work in long form non-fiction across documentary and scripted forms. Braun is an Associate Professor in Screenwriting at USC's School of Cinematic Arts where he has just been appointed the Joseph Campbell Endowed Chair in Cinematic Ethics.
For more interesting interviews with filmmakers, tune into Center Stage with Mark Gordon
Tuesdays at 7PM (PST) on KXLU Los Angeles, 88.9 FM and streaming at kxlu.com