World-Renowned Singer, Songwriter Mohsen Namjoo comes Center Stage with Mark Gordon. Mohsen Namjoo is an Iranian composer, singer, and songwriter. His unique music style resembles a patchwork of Iranian blues, rock, and folk. His song lyrics are a unique combination of classical Persian poems, his authentic compositions, and contemporary poetry, using words freely, with irony and sarcasm to accompany the music and create an open vocal style.
The interview was originally broadcast Tuesday, May 29, at 7 PM (PST) on KXLU Los Angeles, 88.9 FM. Streaming at kxlu.com
Farhang Foundation presents world-renowned singer, songwriter Mohsen Namjoo accompanied by the brilliant Faraualla quartet for the U.S. premiere of ON THE STRING OF THE TEAR'S BOW, in collaboration with the acclaimed artists Shirin Neshat and Shoja Azari and featuring art installations by acclaimed duo. This musical and visual odyssey takes audiences along the ancient silk road investigating the confluences of cultures from the far east to the middle east to the Balkans, all the way to the south of Italy as they have been moving back and forth through centuries both melodically and ritualistically. It is a contemporary artistic take encompassing the cycles of life and death as different cultures have been tackling the issues of loss and rebirth. While incorporating folklore songs of different regions into a unique, harmonic totality, Mohsen Namjoo's musical symphony, remains faithful to the origins of each song while bridging the differences. The monumental video installations by Shirin Neshat and Shoja Azari carry the signature iconic, goddess-like imagery of female mourners from Bari, which have an uncanny resemblance to Neshat's photographs of women from the Muslim world. ON THE STRING OF THE TEAR'S BOW is followed by a second act featuring a concert by Mohsen Namjoo and his ensemble performing some of their most beloved songs. For tickets visit Farhang.org/Namjoo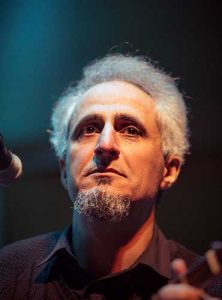 About Mohsen Namjoo
Namjoo was born in 1976 in Torbat-e Jam, a small town in northeastern Iran. Between the end of 1997 and beginning of 1998, Namjoo holds his first two concerts on the theme "Modern Combination of Poetry and Music of Iran." His debut album "Toranj" was officially published in Iran in 2007. Namjoo has also composed soundtracks for film and theater. Since his arrival to the U.S. in 2011, Namjoo has been touring the world to sold out concerts at prestigious halls such as Palace of Fine Arts, San Francisco; Conservatorio Sala Verdi, Milan, Italy; Disney Hall and Royce Hall, Los Angeles and many more. His latest album ON THE STRING OF THE TEAR'S BOW was released earlier this spring.
Written by : Mark Gordon
Mark Gordon has been working as a broadcast journalist for over 25 years. In that time he has interviewed some of the biggest names in film including Danny Boyle, Guy Ritchie, Ridley Scott, David Cronenberg, Darren Aronofsky and many more.