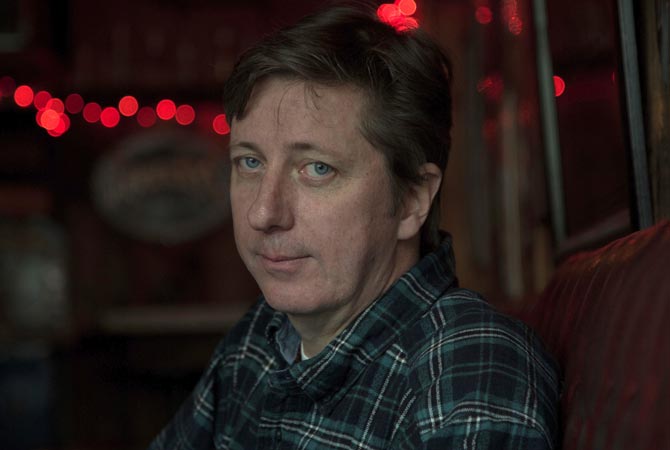 Filmmaker, writer, director, producer, and composer Hal Hartley came Center Stage with Mark Gordon to talk about the release of The Henry Fool Trilogy, which features his films Henry Fool, Fay Grim, and Ned Rifle in a boxed-set and subtitled in five languages.
Listen to Hal Hartley on Center Stage with Mark Gordon
The interview with Carl Hartley was originally broadcast Tuesday, June 20, 2017 on KXLU Los Angeles, 88.9 FM.
Hal Hartley is an American filmmaker, writer, director, producer, and composer who has made twelve feature films since 1988. Popularly associated with the American independent filmmaking scene of the early nineties, he went on to write and direct such films as No Such Thing (2001) for United Artists and Fay Grim (2006) for HD Net Films. Hartley has won numerous awards at Cannes and Sundance, and has had his work shown in retrospectives around the world. He has also written and staged theatre, most notably his play Soon (1998) and the world premiere of Dutch composer Louis Andriessen's opera La Commedia (2008). He maintains his own production company, Possible Films, in New York City.
Hartley established himself as a noted and prolific filmmaker in the first decade of his career, making many films very quickly: The Unbelievable Truth (Nominated, 1990 Sundance Film Festival Grand Jury Prize), Trust (Winner, Waldo Salt Screenwriting Award at the 1991 Sundance Film Festival), Surviving Desire (1991), Simple Men (Official Selection, 1992 Cannes Film Festival), Amateur (Official Selection, 1994 Cannes Director's Fortnight; Winner, 1994 Tokyo International Film Festival Young Filmmakers Award), Flirt (1995), and Henry Fool (Winner, 1998 Cannes Film Festival Best Screenplay).
In 1998 Hartley shot his first digital video feature, an eschatological comedy called The Book of Life. He continued with a monster movie, No Such Thing (Official Selection, 2001 Cannes Film Festival Un Certain Regard), and a futuristic dystopia, The Girl from Monday (Winner, 2005 Sitges International Film Festival "Premi Noves Visions" Award). In 2004 he moved to Berlin, where he made Henry Fool's sequel, Fay Grim (Official Selection, 2006 Toronto International Film Festival; Winner, 2006 RiverRun International Film Festival Audience Choice Award). The distribution for his most recent release, Meanwhile (2012), was funded by a successful Kickstarter campaign.
Hartley has made dozens of short films, many of which are available in anthology form as Possible Films: Short Works by Hal Hartley 1994-2004 (2004) and PF2 (2010). There have been retrospectives of his work in the Netherlands, Spain, Norway, Korea, Argentina, and Poland. He is an alumnus of the American Academy in Berlin. He was made a Chevalier de l'Ordre des Arts et des Lettres of the Republic of France in 1996, and taught filmmaking at Harvard University from 2001 to 2004.
Hartley was born on November 3, 1959 to Eileen (nee Flynn) and Harold Hartley. He grew up in Lindenhurst, Long Island, in a working class suburb an hour from New York City with two older brothers and a younger sister. He graduated from Lindenhurst High School in 1977 and enrolled at the Massachusetts College of Art in Boston, where he took a formative elective in Super 8 filmmaking. He returned home after the 1977-1978 academic year to earn more money for schooling, eventually matriculating at the State University of New York at Purchase Film School in September 1980. He graduated in May 1984, and after a year of various production assistant jobs, settled into a position at a commercial production company where his boss helped finance his first feature, The Unbelievable Truth (1989).
For more interesting interviews with filmmakers, listen to Center Stage with Mark Gordon Tuesdays at 7PM (PST) on KXLU Los Angeles, 88.9 FM and streaming at kxlu.com